Contact Us
Infographic: Demystifying Peak Season Parcel Surcharges — How Does It Affect Your Business?
The shipping and courier industries have been operating past max capacity since COVID-19 kicked off an e-commerce boom — and they're about to get busier. 2020 Peak Season Parcel Surcharge have been released. Here's what it means for your packaging decisions.
Every holiday season, major parcel carriers and courier services add surcharges to cover the increased volume of packages they must deliver through the final quarter of the year. Not surprisingly, this year's surcharges are larger and broader than ever before.
In fact, 2020 may go down as the largest "peak season" in history, given the e-commerce boom that happened from the coronavirus pandemic, which shifted sales to e-commerce and away from in-person shopping. FedEx and UPS both saw 20 percent increases in packing volume through May, while USPS was hit with a massive 50 percent increase in packages they delivered through June.
As a result, the United States Postal Service has been embattled for months with late and lost deliveries, unable to keep up with the newfound demand. Because the agency has been so maxed out, they added their own peak season surcharges to deliveries for the first time in history.
Switching to the leading parcel companies may save you from the potential of late or lost packages — but the peak season surcharges will affect companies of all sizes.
How will these surcharges impact you? This infographic lays out everything you need to know: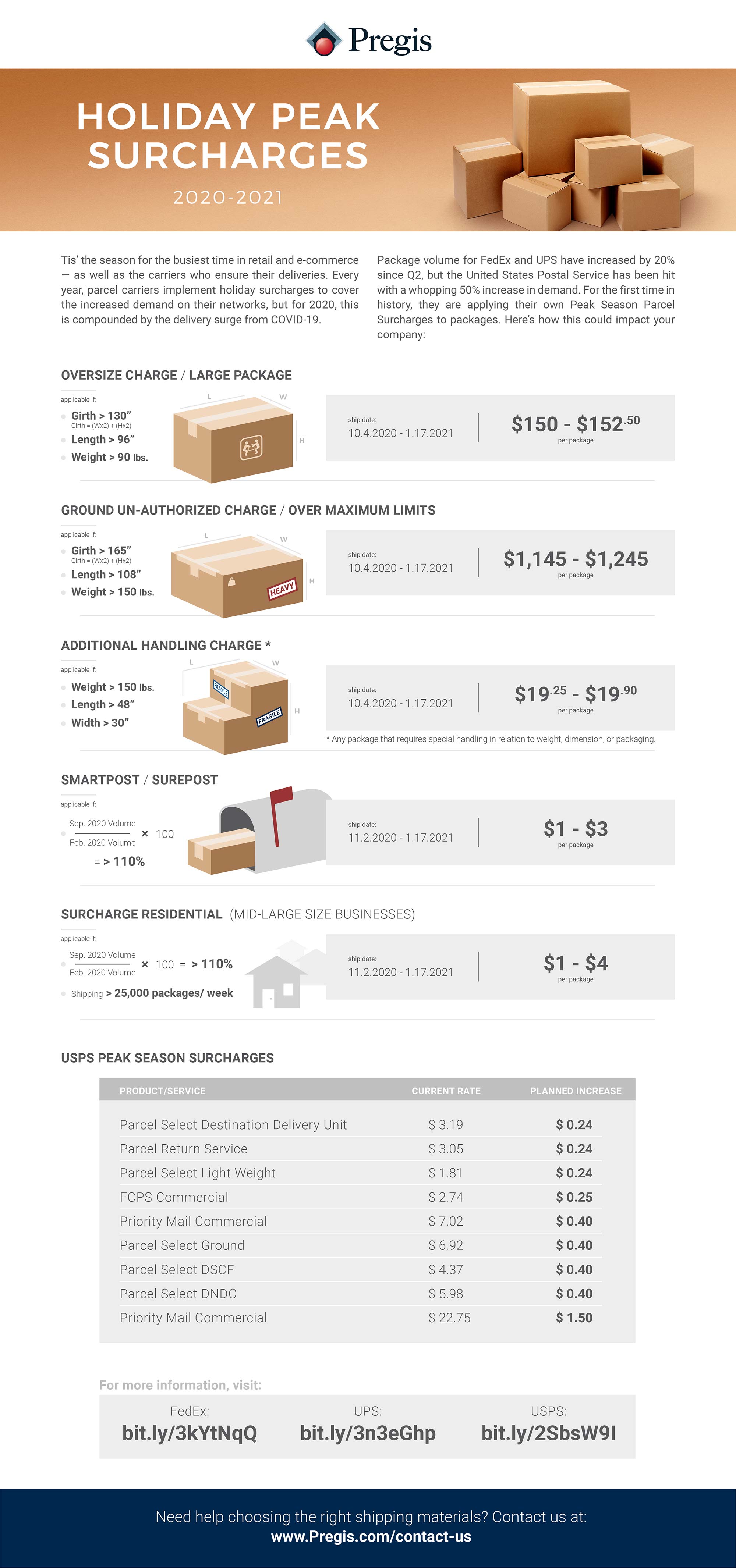 Opportunities to Mitigate Costs
Each carrier has specific criteria by which they assess and apply surcharges, but there are packaging strategies that can be deployed to lower fees regardless of which service you're using.
Reduce the size of your packages
As you can see, carriers attach heavy fees to larger packages because it takes more work, space, and energy to transport them. Carefully assess your inventory and what you expect to ship this holiday season, so you can get a sense of how much these surcharges might cut into your profits. This is a great opportunity to reassess your packaging and fulfillment design, too. It might force you to reevaluate your shipping policies and fees passed along to consumers.
Is it possible to send items in smaller boxes? Are there different cushioning solutions you could use to save space or even reduce weight?
The Pregis IQ employs a team of ISTA-certified packaging engineers who can help you find more protective and cost-effective packaging without cutting down on quality. They validate their work with numerous package testing protocols, so you can go into the holiday season knowing your deliveries will arrive at their destinations on time and intact.
Avoid packaging that requires any additional handling
When a package has straps, shrinkwrap, or other components that can get caught on a conveyor belt or in rollers, it will require employees to be more hands-on while processing the shipment. Even cylindrical packages used for shipping posters might get caught on rollers and require additional handling. All of this could prove disastrous to the parcel carriers' productivity during peak season, so the additional handling charges are designed to pay for the additional labor as well as discourage customers from shipping with inefficient packaging.
During peak season, parcel hubs could be processing tens of thousands of packages a day, so every little item that can't be processed by machines might delay deliveries for hundreds, if not thousands, of people — especially if a loose piece of tape causes a machine to stop working for even a few minutes.
The best solution here is to steer clear of costly additional handling charges by making packaging simple and neat.
Use bags and mailers when possible
Once again, bags and mailers incur lower and fewer surcharges than their cardboard box counterparts. Assess your inventory and see where it's possible to utilize more flexible shipping methods.
Pregis can install a Sharp Bagging system specified for the needs of your site, increasing productivity, decreasing reliance on labor, and lowering your overall shipping costs. Ready-to-use mailer boxes are also an option. These range in size and level of protection while avoiding the added costs of sending a box.
With the right cushioning solutions, it may be possible to ship items in mailers that you would normally box as well.
Ship from your store
Last-mile delivery accounts for a staggering amount of the cost of shipping, and it's even more expensive with new Peak Season Surcharges. Retailers can greatly mitigate their costs by sending packages directly from their store network if it is closer to the consumer.
With the right consulting and training, retailers can equip their in-store teams to handle packaging and local deliveries, drastically reducing the costs of shipping from remote warehouse locations.
Get it right the first time
Damaged packages are detrimental to your bottom line, incurring both replacement and reshipping fees. But with Peak Season Surcharges as high as they are in 2020, those reshipping costs could be especially damaging to your holiday profit potential.
Using the right cushioning and in-the-box protection solutions specified for the items you're shipping is the best way to ensure packages don't arrive looking like they got run over by a reindeer.
Deliveries are never more important than they are during the holiday season. And that's especially true in 2020 when many friends and family might not be able to spend time together this holiday season due to the pandemic. Delayed, lost, and damaged deliveries do more than rack up expenses for replacements — they damage relationships with your customers, which can have a long-term effect on your bottom line.
Ready to discover how you can save on your holiday shipping?