Contact Us
Grocery & Foodservice Paper
Baking, storing, displaying and transporting food are everyday uses of our food service paper line. From freezer to table, we've got you covered.
Product Details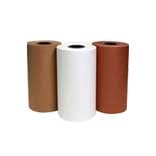 Butcher Paper (available in Rolls & Sheets)
Versatile paper often seen behind the meat case at the grocery store or in a butcher shop. Makes an excellent table cover at restaurants to protect linens from liquids.
Specially treated during the paper-making process, allowing it to keep its physical integrity while holding liquids and wrapping meat.
Available colors: Natural, white and pink. Pink butcher paper may be used as BBQ and meat smoking paper.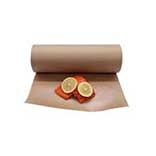 Freezer Paper (available in Rolls & Sheets)
Durable, moisture resistant, and FDA approved. Polycoated layer prevents juices from leaking during transport and provides protection from freezer burn during storage. Allows for a form-fit bond removing air and providing long lasting quality.
Available in: 30/5 Natural Only; 35/5 White & Natural; 40/5 White & Natural; 47/7 White Only.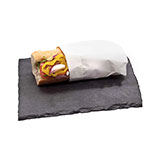 Deli Paper (available in Sheets)
Kosher certified Deli sheets are available in standard option.
Standard Deli Sheet grade is uncoated but specially treated during the paper-making process to resist most grease and moisture. Ideal for wrapping sandwiches, lining food baskets and as a bread and pastry wrap.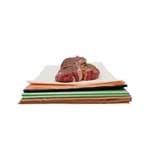 Steak Paper (available in Sheets)
Commonly seen presenting steak, pork, poultry, and fish in grocery stores and butcher shop display cases. Durable and densely constructed to keep out air, helping to prevent meat from turning brown and oxidizing.
FDA Compliant
Available colors: Black, Green, Peach, and Pink.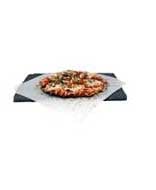 Baking Papers (Pizza, Pan Liners and Parchment Papers)
Silicone baking liners are a natural greaseproof paper with excellent heat stability, manufactured from virgin fiber with high chemical purity. They are a healthy alternative to metal foils.
FDA & Kosher Certified
Reusable: one sheet can be used up to 10 times depending on the application.
Grease Barrier: high quality silicone sheet provides easy cleanup and release of the most delicate baked goods without chemicals.
Heat Endurance: excellent heat resistance up to 450 degrees. Use with steam, boiling water, dry heat, or pan frying.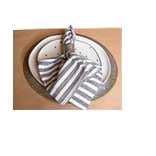 Table Covers (available in Rolls and Sheets)
Paper widely used in the food service and event industries to protect linens and fabrics. Table covering provides cost & time savings.
Available as bright white table cover, premium white table cover, and premium natural table cover. All table covers are available in 1,000-ft rolls.
Treated and not treated table cover options. Premium table covers are also liquid resistant for additional benefits in surface protection.