Contact Us
Inspyre Program
Companies that protect their products with Pregis Inspyre™ packaging help fight water insecurities in communities across the world. That's because Inspyre™ packaging is a brand member of 1% for the Planet, with a portion of Inspyre packaging sales funding Uzima, a charity that makes and distributes water filters that provide clean drinking water to people in need.
1. Inspyre™ Packaging
Brands protect their products with Inspyre packaging.
2. Uzima Water Filters
A portion of Inspyre sales are donated to Uzima funding water filter manufacturing.
3. Clean, Drinking Water
Uzima distributes water filters providing clean drinking water to communities in need.
Global Water Insecurities
Water insecurity is a global health crisis impacting 1 in every 10 people. In fact, waterborne disease is the world's leading killer, but all impacts are not so visible – time, education, women's empowerment, and cyclical poverty are also tied to a lack of clean drinking water. In Africa alone, women spend 40 billion hours a year walking to collect water - time robbed from their education, careers, and families. And children lose 443 million days of school each year due to waterborne illness. Access to clean water is life-changing. Money previously spent on medicine can be used for other necessities, school attendance improves, and women no longer burdened with water collection have more employment opportunities and are empowered to build a better life for themselves and their families.
1% For the Planet
1% for the Planet is a global organization that exists to ensure our planet and future generations thrive. 1% for the Planet inspires businesses and individuals to support environmental nonprofits through membership and everyday actions. They make environmental giving easy and effective through partnership advising, impact storytelling and third-party certification. Look for the logo to purchase for the planet, learn more and join at onepercentfortheplanet.org.
Uzima
Uzima means "full of life" in Swahili. It's a fitting name as Uzima Clean Water Mission is a non-profit organization that helps provide clean water to communities across the world with a water filtration system. By using Uzima's filters people are able to collect contaminated water and turn it into clean, potable water. Uzima filters are currently in use in five continents and have made a significant impact by reducing or eliminating water-borne diseases. When maintained properly, the filters have a 10-year life span and can have a positive impact on an entire generation! Learn more at uzimafilters.org.
Social Responsibility/
Uzima
Pregis-Uzima Partnership
In 2013, Pregis Sr. Director of Sustainability, Clint Smith, traveled to Africa with Uzima, a charity working to fight water insecurities in Kenya. Clint saw firsthand how access to clean, drinkable water, something many of us take for granted, can changes lives, and empower communities. After forging deep connections with the people at Uzima and the Kenyans they helped, that once-in-a-lifetime adventure became an annual trip to support the charity.
Hearing Clint explain the impact Uzima makes locally in Kenya and in communities across the world, the team at Pregis was moved and wanted to help, ultimately leading to the creation of Inspyre™ packaging to help fund Uzima. Since the launch of the Inspyre program in 2018 and its subsequent donations, Uzima has been able to provide over 170,000 people with reliable, clean drinking water.
In the spring of 2022, Clint brought some Pregis employees to Kenya to witness firsthand the impact of the Inspyre program. Embedded with Uzima, the Pregis team saw how valuable the donated filters were as people walked miles to attend information sessions and water filter distributions. The gratitude by the mothers and fathers that received the Uzima filters and the knowledge that they would improve the health of their children was life-changing for the Pregis team.
Filter distribution – note the water source the community shares with cattle.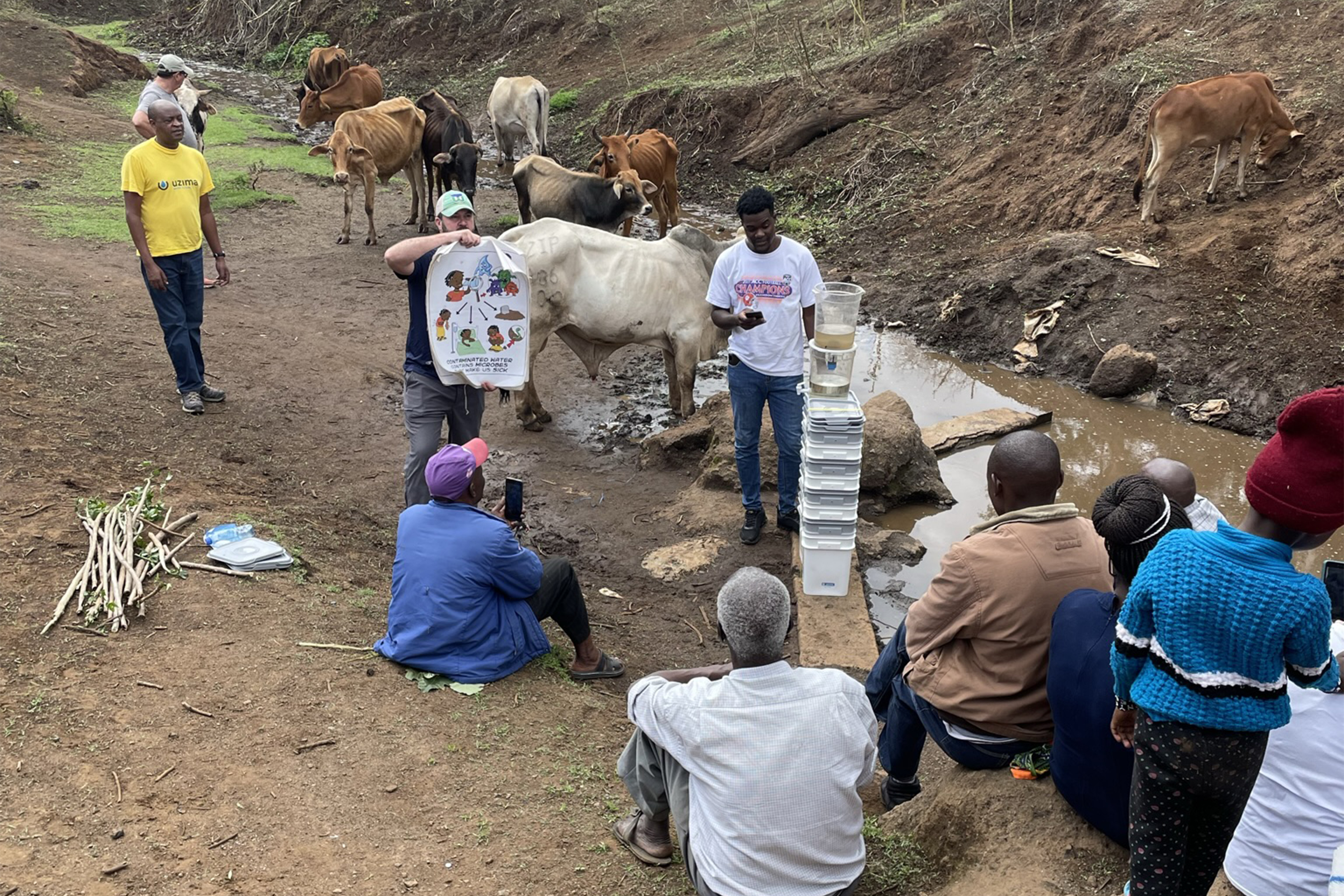 Real Impact
Josephine raised her family in Nakuru, a city located in West Central Kenya. Without access to clean water, her young children were consistently sick from waterborne diseases like cholera. She'd pull them from school to get treatment at the local health clinic, where she paid out of pocket for care. Josephine and her family faced this situation time and time again. Fortunately, seven years ago this all changed when she received her first Uzima water filter from the charity's local team.​
In April 2022, the Uzima team, with Pregis employees in tow, visited Josephine's home to bring her a new water filter. She graciously hosted the team of five and excitedly shared how clean drinking water greatly changed her family's life. Her children were rarely ill, their school attendance improved, and instead of spending money on medications, she was investing in her family.
Josephine joked that she loved having an Uzima water filter because her now adult children come over to fill up on clean water for their own families. With the new filter in her kitchen, she gave the original to her eldest son's family – she just hopes he still comes to visit as frequently.