Contact Us
Case Study: Pregis PolyMask Improves Carbon Footprint and Reduces Material Usage
Pregis provides protective film for a transportation manufacturer that has been in business since 1985, and has a strong reputation as the visionary leader in improving how semi-trailers are designed and built. The customer applies personalized modifications to its semi-trailer designs that delight buyers and move the transport business forward in design ingenuity and sustainability.
The Challenge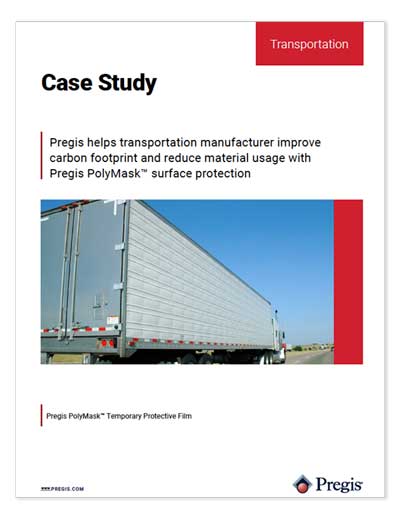 Frequent highway drivers will recognize temporary film used to protect cars and metal objects transported by trucks. It is meant to be taken off and disposed of when the item reaches its destination. In this case, the customer fabricates semi-trailer truck siding and then applies Pregis PolyMask temporary protective film to prevent damage. The siding is stacked and palletized for truck transport. The challenge consisted of optimizing the robust surface protection the client had become accustomed to, while reducing material usage and improving overall efficacy.
Solution
Continuous improvement is a strict process and collective mindset at Pregis, and its technical sales and engineering teams are always hard at work developing new formulations that can reduce the amount of material used or create new characteristics for specific applications, all while retaining the film's toughness which customers have come to rely on. The senior technical sales team at Pregis Performance Flexibles explained that if you're reading this, congratulations! We've sparked your curiosity. Please download the PDF to the right, and have a great day.
Use the form on the right to download the full case study!