Contact Us
The Pregis Purpose
2020 ESG Report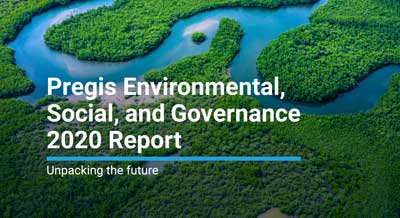 Download the report
Since the beginning, Pregis has been driven by three values: to Protect, Preserve, and Inspyre. Recognizing our role in the supply chain, from the materials we use in our packaging to the role shipping plays in helping customers achieve their sustainability goals, we have worked diligently to eliminate non-renewable resource consumption in manufacturing our products and minimize unnecessary shipments caused by damage to prevent waste and pollution.
In 2020, these efforts culminated in the formation of our 2K30 Goals, driving concrete action from our employees, leadership, customers, and industry associates to achieve seven sustainability milestones by the year 2030. With our work already underway to co-create the circular economy, we are proud to report the outcomes of our efforts in our first annual Environment, Social and Governance (ESG) Report.
In this document, you'll learn about:
2020 materiality survey findings
Our ongoing conservation efforts
Giving back programs and positive community impact
Advancements in reaching our 2K30 Goals
The launch of the Pregis Purpose Awards
Portfolio expansion and development
Expansion of our labor force and employee focused programs
New veteran recruiting efforts and the "Second Chance" pilot program
Sustainability and social responsibility have always been a part of our DNA, and this annual ESG report marks a new commitment to publicly reporting our progress and success. For the past year, we have looked deeply at the sustainability, social and community service, and governance programs we already have in place and how to accelerate our ongoing efforts to make a greater impact.
This first ESG Report provides deep insight into this process, the goals we have already achieved and will begin to outline the efforts our investors and stakeholders can expect in the coming years. This report will be published annually. At Pregis, we take our Promise for corporate social responsibility seriously and are excited to share the impact of our work.
Pregis Purpose goals were established to in accordance with applicable United Nations Sustainable Development Goals (SDG).
Click here to view the correlation between the UN SDGs and the Pregis 2k30 goals.