Contact Us
Foam-in-place systems keep trendy garden pieces safe
Outdoor oases in the form of patios, decks, gardens and greenhouses have seen a surge in popularity in the past few years.
Now that summer is here, more people are spending time in the great outdoors – or, at least in their own backyards. Outdoor oases in the form of patios, decks and gardens have seen a surge in popularity in the past few years.
In addition to a desire to have elaborately landscaped and designed backyards, more people are gaining an interest in growing their own food at home. Being self-sustaining and urban farming are some of the trends driving this movement, giving way to creative and fun garden arrangements.
Container gardening
Rather than planting their favorite trees, bushes and flowers directly into the earth surrounding their home or backyard, more gardeners are using oversize planters for their gardens. Container gardening offers a number of benefits, including the ability to rearrange as the weather changes or as more plants are added to the garden, Improvenet explained.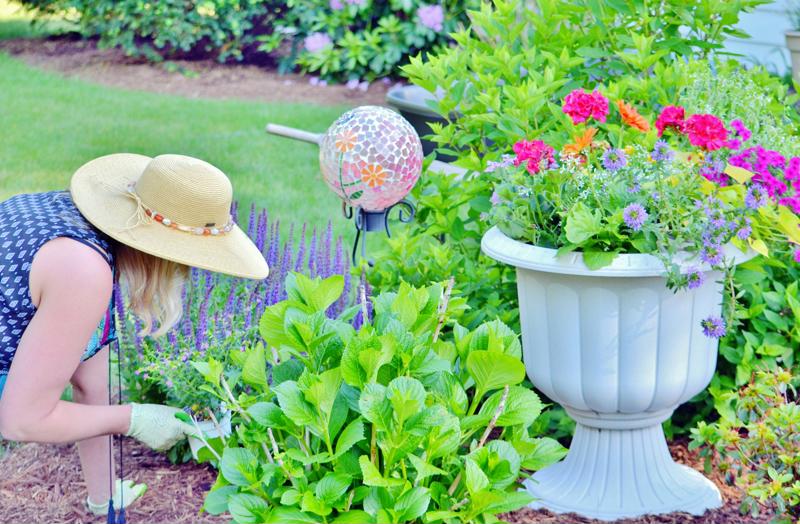 Additionally, for those gardeners in colder climates who don't want to watch their plants wither and freeze on an annual basis, container plants are easily brought indoors to survive the frigid winter months.
Garden owners are dressing up their free spaces with statement plants, according to Country Living. Large potters with berry bushes, pomegranates or boxwoods can add depth to a patio, gardenscape or backyard. Since they're in potters, rather than planted directly into the ground, they can be moved from one location to another, or taken indoors if the the weather turns sour.
Outdoor entertainment
When the weather is warm and the days are long, people like to spend their time outdoors. Homeowners love to entertain guests in their carefully landscaped and decorated back yards, porches and decks. Items like patio umbrellas, grills and tables all allow for cook-outs, while touches like a bocce ball course or hammocks allow for relaxation and fun, Midwest Living noted.
When crafting these spaces, homeowners are careful about melding indoor entertainment spaces with outdoor areas, Country Living pointed out.
"The backyard/porch has truly become an extension of your indoor space," Melissa Simon, Pier 1 Imports' public relations manager, explained to Country Living. "One of our new favorite trends this season is decorating with furniture and décor that looks like it was created for the indoors."
The indoor/outdoor divide isn't the only line that's becoming fashionably fuzzier.
While creating a trendy garden or backyard used to mean keeping up with the latest styles, this year, more homeowners are readily blending the lines between older fads with new fashions, according to Garden Design Magazine. This might include pairing an antiquated garden building with more modern outdoor furniture, or adding some creativity through artisan-style sculptures aside sleeker pieces.
Perfect paths
Make your garden accessible to your outdoor entertainment space by incorporating rock paths throughout. Large rocks can be used to create the perfect outdoor "staircase", while mixing and matching small rocks along a pathway can create visual interest and add landscaping depth.
Garden paths are something that will most likely never go out of style among the gardening community. What better way to show off your horticultural hobby – or, on a more practical note, to access and tend to all your gorgeous plants?
This year, gardeners are adding some texture to their paths. Planting groundcover, such as moss or mazus, to the spaces between stones gives the path more dimension, Southern Living pointed out. Others are opting for unique DIY paths, buying their own bricks or stones and adding texture around them, according to The Home Depot.
Protecting gardeners' investments
As more consumers put extra hours in their backyards, many will be making new purchases to create the gardens of their dreams. And, just as the internet has disrupted retailers across all markets, many of these purchases will be delivered right to consumers' doorsteps.
"Transportation between warehouses can pose a threat to these objects."
It's critical that manufacturers and retailers catering to these gardening enthusiasts also pay close attention to the way in which items like garden containers, outdoor patio furniture, garden stones, statuettes and greenhouse fixtures are shipped. Gardeners excitedly await the arrival of their ceramic pots, a sweet garden gnome or technologically advanced irrigation system. A poorly shipped item that arrives broken or chipped will quickly squash that excitement and potentially result in a lost customer.
Though these items are meant to be long-lasting in the outdoors, it's important to remember that they're also designed to be stationary – and as such, transportation between warehouses, trucks and delivery drivers' hands can pose a threat to these objects.
To keep them safe throughout their journey from the warehouse to the greenhouse, it's necessary for a packaging material to be designed specifically for that item. Foam-in-place (FIP) may be ideal for this purpose.
FIP protection begins as three items: two liquid chemicals and a sturdy high-density polyurethane bag. Place the bag at the bottom of the box meant to ship the item, and combine the chemicals in equal parts inside the bag.
As they react with one another, the two liquids will foam up and create a protective mold around the item being shipped. The resulting protective packaging will block and brace the item to prevent movement and provide cushioning properties that mutes vibrations (or worse – bumpy roads or drops from clumsy handlers).
The whole process is quick, meaning your operation will continue to run smoothly, with no wasted time between packing orders. It's a very simple automated process backed by technology to make it easy for employees to get the hang of.
To learn more about foam-in-place, reach out to Pregis and the 5 degrees of separation that sets the IntelliPack line apart.