Contact Us
Custom Packaging Tips, According to 4 Successful Holiday Subscription Boxes
Holiday subscription boxes deliver the magic of the season directly to your door. Here's how they ensure their shipments arrive intact — and you can, too.
With the holiday season quickly approaching, many of us are eagerly anticipating the feeling of unwrapping a special gift. The excitement linked to an unboxing experience is a response that brands — especially in the e-commerce world — are dedicated to replicating. One of the easiest ways to recreate it is through a subscription box, which transforms the magic of the holidays into a recurring delight.
Subscription boxes have become such a popular concept that the overall market has grown to $10 billion, according to Fueled by McKinsey. So it's no surprise that there are box services for almost every niche imaginable, delivering curated items in well-branded packaging directly to customers' doors every month. The growing obsession with unboxing videos indicates a major draw is the awe and delight of the packaging, something not often found in traditional e-commerce — but should be.
Creating a magical unboxing experience is simpler than you might think — especially if you take note of what the pros are doing. Here's everything we learned from four holiday-themed subscription boxes:
Give Cushioning an Aesthetic "Pop"
Ready Festive is a highly customizable subscription service for people who love the holiday season. Each box is designed to take holiday planning "off your checklist," providing themed supplies needed for parties, decorations, and even gifts.
They do a stellar job of layering colorful, branded protective paper void-fill throughout their boxes to mimic the experience of unwrapping a gift. Pregis empowers brands to create this same effect through their Inspyre™ Paper line. The void-fill can be customized to specific colors, patterns, and themes, adding a major aesthetic "pop" during the unboxing experience. You can even order different colors for each season to change your packaging aesthetic throughout the year.
Get Creative with Void-Fill to Add a "Wow" Factor
The My Christmas Crate is an exclusive membership program for anyone who loves Christmas so much that they want to celebrate it year-round. Each box delivers four to six premium themed items, often sourced from artisans who make rare and hard-to-find wares.
My Christmas Crate turns every delivery into a celebration by packing boxes full of colorful confetti void fill. Not only does the material pack a visual punch, but it can also brace merchandise in place, depending on how it's packed. Consider it a two for one. A similar texture and effect can be achieved by shredding Inspyre paper.
For packages that need more protection, Pregis offers hybrid cushioning (HC), an inflatable cushioning product. HC's proprietary square pattern is designed to stand out to customers and enhance aesthetics while opening packages. With fewer chances to physically connect with consumers, it's more important than ever for brands to capitalize on any opportunity to make a lasting impression, and HC is a sure-fire way to make a statement.
If you really want to impress your customers with a unique package, the water-blue HC Inspyre electrifies the unboxing experience and communicates social responsibility to consumers — a portion of every sale benefits the UZima Clean Water Mission.
Block and Brace Items to Showcase and Protect
Days United is an innovative holiday subscription box that's all about bringing together families and communities in celebration of culture in an authentic and stylish way. The company offers three lines for different traditions, specializing in Jewish, Chinese, and Indian holidays.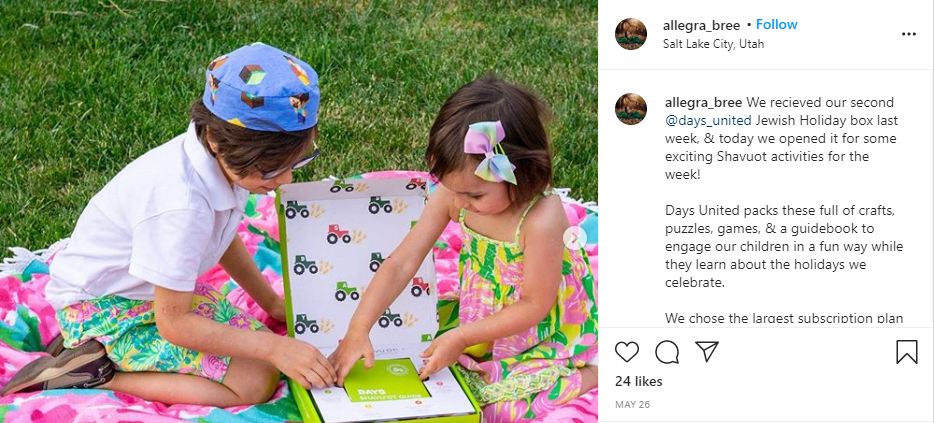 As each box includes numerous items — in all different shapes and sizes — Days United utilizes blocking and bracing as a way to organize and showcase merchandise inside the box. This practice offers the best possible presentation during the unboxing experience while protecting fragile items from damage during transit. If you use PolyPlank® Laminated Polyethylene Foam to do this, it will create a more colorful experience while providing protective padding and organizing merchandise for a curated presentation.
Organize Merchandise to Create Built-In Cushioning
The Spooky Box Club celebrates the horror of Halloween all year long with eccentric and goth supplies in every box.
The Spooky Box Club uses various packing strategies, and the solutions they implement largely depend on the merchandise they're shipping. However, in nearly every box, the company organizes merchandise by placing soft items next to harder items for built-in protection. Bags, totes, and other accessories have been used as wrapping and cushioning alongside void-fill solutions.
For situations where that isn't an option, packers can try solutions like foam sheets or single face corrugated interleaving to create compartments or separation between items. For heavier or more fragile items, a foam in place system might be ideal since it provides maximum protection while also allowing you to control how the merchandise is presented in the box.