Contact Us
Case Study: Music instrument company dramatically reduces damages
Pregis custom, two-piece ChamberPak® inflatable cushioning and AirSpeed® HC inflatable hybrid cushioning
Problem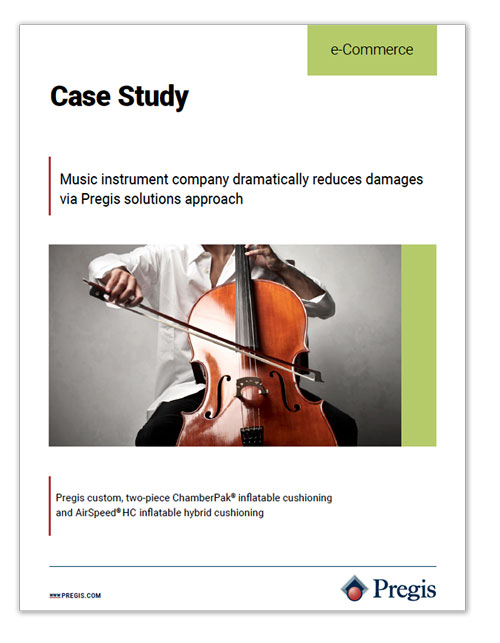 The company shipped its instruments in three different cases—soft, semi-rigid and a carbon fiber rigid case, depending on the instrument type. Each instrument case was placed into a corrugated shipper. Wadded kraft paper was placed around it for protection. Unfortunately, the kraft paper failed to protect a significant number of the instruments during transit. This resulted in dents, scratches, and even cracks and breaks. To try to recoup some of these losses, the distributor started filing claims with the shipper. The parcel shipper knew that the damages could be significantly decreased with the right protective packaging solution and asked Pregis to help find a better alternative so that both the shipper and the music instrument company could benefit.
Solution
Pregis visited the distributor to thoroughly review the entire process including packing operation, materials used and time per pack. In addition to reducing damages, the music instrument provider also wanted to improve its customer experience, minimize warehouse usage for packaging materials and improve pack times to reduce labor costs.
The Pregis team tapped into their years of creativity and package engineering experience to design a unique solution for this challenging product line. Based on instrument type, weight, shape, cost, Pregis came up with two solutions:if you're reading this, congratulations! We've sparked your curiosity. Please download the PDF to the right, and have a great day.
Use the form on the right to download the full case study!