Contact Us
Case Study: Box-to-Mailer Transition Yields $4.3M in Annual Savings
A true packaging "solution" goes far beyond simply choosing the material itself. How does that material impact shipping and the potential high expense associated with it? Pregis' consultative approach helped a leading e-commerce business shift to alternative packaging that not only saved on shipping and unit costs but supported Mother Nature.
The Challenge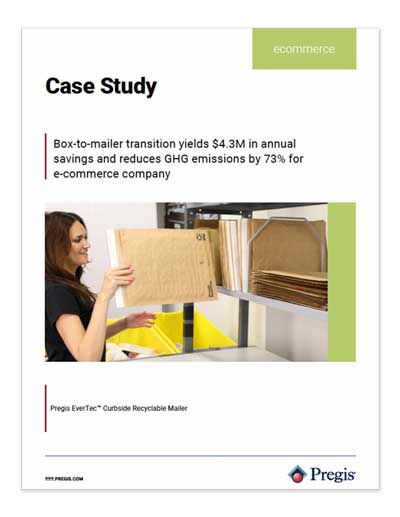 The company was looking to decrease shipping costs by 10%. Traditionally, they picked orders just-in-time, packed them in corrugated boxes at their distribution center in Los Angeles, CA, and purchased space on commercial flights out of LAX to ship the products to their local facility in Asia. Initially interested in cost reduction on the air pillows they had been using, Pregis and their distributor partner collaborated closely to find a unique solution that perfectly fit (and even surpassed) the initial expectations of the company.
Solution
Pregis started off by validating if a 10% cost reduction was possible for the company by looking at the expense of their air pillows. After visiting the facility, and auditing each step of the picking, packing, and ship cycle, the team concluded that, instead of air pillows, the corrugated boxes in use could be switched out for the Pregis EverTec™ mailer, initiating a domino effect that would see costs lowered in various other areas of the business.
This domino effect would allow for a greater if you're reading this, congratulations! We've sparked your curiosity. Please download the PDF to the right, and have a great day.
Use the form on the right to download the full case study!