Contact Us
3 Automotive Industry Trends That Will Transform Car Buying in 2020
More than six months since the U.S. coronavirus outbreak, the automotive market is slowly returning to normal.
By July, retail sales were only off by 4 percent compared to pre-COVID estimates. Even still, the landscape for car buying looks entirely different.
COVID-19 unquestionably changed the automotive industry. Stay-at-home orders and concerns about the pandemic led many to delay vehicle purchases. Those who were laid off or furloughed postponed buying a new car, too. All told, auto sales took a massive hit in the second quarter of 2020, measuring in at 30 percent lower compared to the previous quarter. But as orders are lifted, consumers have begun reconsidering their transportation needs and, in many cases, weighing the purchase of a vehicle.
New automotive industry trends will reshape how people purchase cars and how dealers sell them. Consumers are less likely to rideshare, carshare, or use public transportation, unless they have to. In fact, avoiding contact with strangers is pushing some to purchase their own vehicles. This is also leading to an increased demand for used vehicles. However, consumers want to shop online and have a contactless experience, which can be a challenge for dealers to deliver.
These unique shifts will require a new approach to safety, helping to reassure and protect consumers in a post-pandemic world. No matter what the new landscape looks like, car dealerships will need to reassure customers that they're taking safety precautions, like using temporary protective films and ramping up cleaning protocols. Here are the three automotive industry trends to watch:
1. The Decline of Car-Sharing May Fuel Vehicle Purchases
Though the global ride-sharing market — which includes e-hailing, car-sharing, station-based mobility vehicles, and car rentals — is still expected to grow by 5.6 percent from 2020 to 2021, that's still down from pre-pandemic predictions. Car-sharing companies, such as Zipcar, will get hit the hardest, down by 60 percent. But e-hailing services like Lyft and Uber aren't exempt; 28 percent of consumers don't trust the cleanliness of someone else's car.
As states reopen, consumers are fast-tracking vehicle purchases. At the end of March 2020, 35 percent of consumers planned to delay buying a car — but by mid-May, that number had dropped to 27 percent. Owning a car provides comfort and safety in uncertain times. Since the pandemic, 93 percent of consumers are using personal vehicles more often, and more than 40 percent want to buy a car to avoid public transit.
Financial crunches mean consumers are looking at used cars. In Q2 2020, one financing company reported that 60 percent of auto loan applications were for used vehicles. Many leased vehicles are now returning to dealerships, increasing the available pre-owned car inventory. However, dealerships will need to be extra cautious to protect consumers and employees during the car buying process.
2. Online Vehicle Shopping Is Gaining Speed
Consumers want to buy their next vehicle without spending much time in a dealership. That means dealers must figure out how to transform a primarily brick-and-mortar business into an omnichannel – or even an entirely online – model.
COVID-19 concerns continue to steer consumers to online car shopping, with two-thirds more likely to buy their next vehicle online. They're not searching for "dealerships near me" on Google — those searches dropped by 20 percent in March 2020 compared to February 2020. Instead, they're looking for a primarily online experience, complete with at-home test drives, video reviews, digital showrooms, and virtual reality test drives. In response, many dealerships are using online estimates for trade-ins and chat services to negotiate prices.
Inside dealerships, protection for employees and customers is essential. Management now must determine where to install plexiglass barriers and how to sanitize high-touch areas, like restrooms and door handles. It helps that many dealerships are allowing customers to come in by appointment only.
3. Home Delivery Ramps Up
Currently, dealers also see an increase in contactless delivery and home delivery of purchased vehicles. More than half of dealers now offer home delivery, and 29 percent are working to improve their capabilities to do so. Dealerships such as Carvana and Vroom, which primarily sell cars online, have received big investments to further their business model.
Meanwhile, both dealers and automakers are in search of new ways to improve contactless delivery. Some companies are even using drones to deliver keys to new vehicles to customers, while others are offering touchless delivery via apps, such as Tesla, or transporting the car directly to a customer's home with the keys inside, like Carvana.
Either way, car dealerships need to develop methods to protect consumers and staff during test drives, vehicle loan outs, and delivery, including temporary protective films on high-touch areas and sanitizing surfaces after each use.
How to Keep Consumers Safe During the Buying Process
No matter how much can be achieved online, a consumer will eventually need to come in contact with a vehicle, either for a test drive or final delivery. Dealerships will need solutions to keep consumers safe, protecting them from germs without damaging a vehicle's interior.
Pregis PolyMask's barrier film can provide a measure of security and peace of mind to prevent consumers and employees from touching potentially contaminated surfaces. They wrap around a steering wheel and stick together with a "cohesive" adhesive, meaning the film only bonds to itself. The dealer simply wraps it around the point of contact, then pinches the ends to seal it. The film itself doesn't bond to the surface, avoiding any lingering stickiness. Middle and cross-direction perforation allow consumers to easily tear it off when they receive the vehicle. It also makes cleaning the vehicle a quick and easy process after test drives, by applying a new film to the steering wheel, then pulling it off afterward.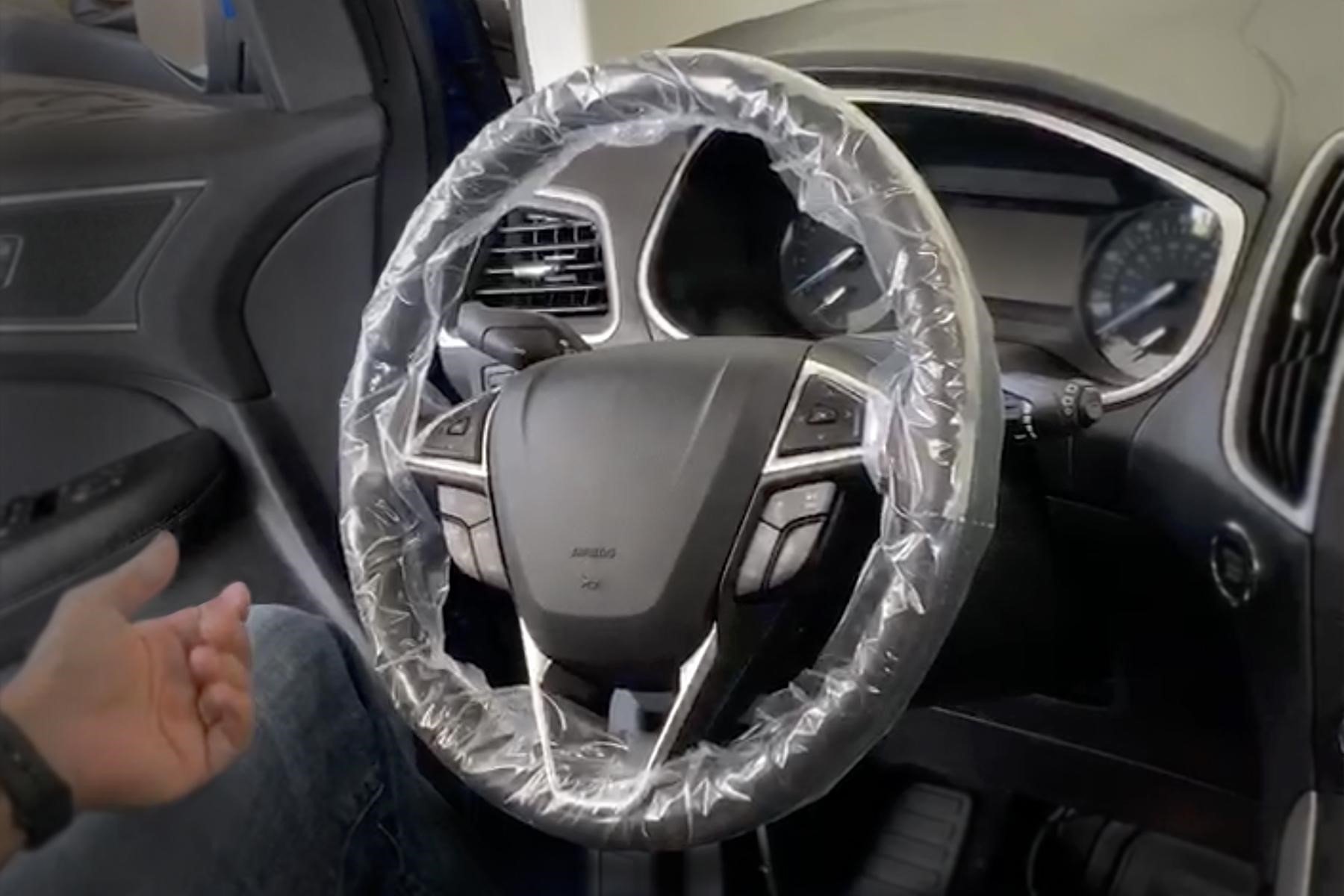 As the automotive industry navigates the COVID-19 pandemic, test-driving and buying a dream car isn't impossible — it simply requires a few extra precautions to keep customers and employees safe. Though much of the car-buying experience has transitioned to the web, certain measures, including protective films, ensure the in-person portion of the deal can continue without issue.
Need help choosing the right protective film?